This is a true underdog story told by Stephen Barrett on August 4th, 2011: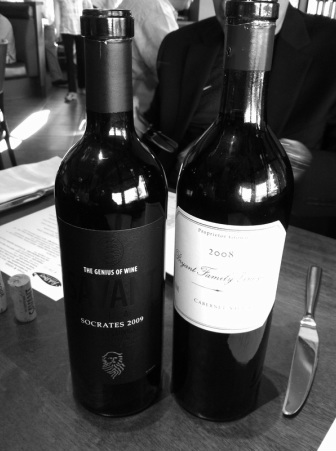 Alvin Murgai, David DePoyster, and I arrived in Napa a few days ago to take care of some loose ends of the Cevant Cellars' business; prior to the bottling, and therefore Cevant Cellars is really taking form—there is wine in the bottle!!!!
The actual bottling process was fantastic to watch, and the mechanization, speed, and talent of the gentlemen running the process was fun to experience. Prior to letting our 2009 ambrosia flow through the hoses and pumps connected to the bottling machine from the variable steel vat, we were each given a glass of our vintage! Before handing the newly poured glasses, the winemaker cautioned us that he had just "sulphurized" it, so the nose might be a little funky. Wow, even before getting close enough to determine the nose, the intensely deep, rich garnet color captivated our attention from the very start. The color is deep and opulent, and compares favorably to any Tier One Cabernet. The winemaker had adroitly extracted the absolute maximum amount of color possible.
Swirling the garnet fluid around the glass began the process of the delicate aromatic escape, and we tipped the big cabernet glasses deliberately to our noses expecting some type of olfactory shock—yes the sulphur was there (really a good thing for this part of the winemaking process in order to protect any wine from oxidation or breakdown during the bottling process), but was so slight it really was hardly noticed.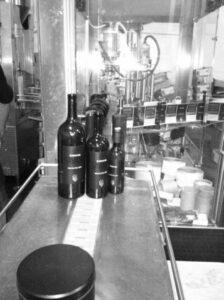 Then, in unison, the three of us tipped our vessels carefully to allow that first taste we had been yearning for since blending in April—BOOM, what a surprise! We all loved the taste of the final blend in April, but now that blend which we thought at the time was great, was even better due to the fact that the blends had time to fully integrate. Our wine, even with the roughness of what had to be done from sulphurizing it, combined with the fact that it has had no time to age in the bottle, is simply damn good—and soon this story will illustrate just how much so. And, how special and rare this really is. So hang in there—I'm getting to the really good part of the story (NO FICTION)! [IF YOU DON'T HAVE A RED IN A GLASS IN FRONT OF YOU RIGHT NOW, STOP READING, GO POUR, AND COME BACK. YOU NEED TO SWIRL SOMETHING AROUND WHILE READING THIS—TRUST ME!]
During the bottling, David asked me to show him sometime during the remainder of the trip what type of wine I aspired for us to make—find him an example so to speak, and let him taste what I thought was really good. Give him a benchmark. Ok, I like those types of challenges and try to do lab research daily. Immediately visions of vineyards and great wineries started coming to mind (think of the best ones you can and plug in here—SWIRL GLASS). I told him we would find one or two "legends" for us to have at dinner the next couple of nights, and then put our new vintage, rough as it was from not having at least a couple of months in the bottle to get over the "bottle shock", not even to mention a couple of years, up against these Titans of viticulture. Two names quickly came to my mind: Harlan Estate, and Bryant Family Vineyard—neither one had any of us ever had the luxury to actually drink before, but from a reputation standpoint, and respect from people who really know wine, I knew I had to find and proffer one of these real bad boys for the epic, side by side, "Boca a Boca" wine fight. Who would ever be crazy enough to really sidle up our new upstart against one of the true perennial gladiators—this is sheer wine madness, I assure you! But call up that image of Rocky Balboa right now in your mind; listen to that sound of "Yo! Adrian" resonate between your cortices, picture that pulped up and pain-contorted puss embellished by Rocky's bloodied eye, and mouthpiece hanging out from his mouth after going 15 rounds with Apollo Creed, and you might just get an idea of how great our Socrates 2009 fought in this epic battle. Except for the fact that Socrates wasn't bloodied at all!
Who was this "Apollo Creed" we went against? How about that 94 Parker-rated 2008 Bryant Family Cabernet Sauvignon? You bet, I found a bottle and negotiated hard to purchase it for a little over $500 with tax, and we hauled it off to the arena (really Fish Story, the great restaurant in downtown Napa). By the way and just for the record that is the most any of the Eleveúr Principè have ever spent on one bottle of wine!!! When I suggested this, I could sense that my esteemed colleagues seriously questioned my sanity. Why not put it up to the best? Let's go for it. We've got TANNIN in our BERRIES!
Ok, so now we are at the "fight" (Fish Story Restaurant, Napa, Ca.) To prepare our "fighter" we decanted it for about 45 minutes while warming up the crowd with a little ogling and sparring (tasting) of the opponent—mostly ogling though as none of us incerebrates had ever gotten this close to a real vintage like this, and we wanted to make this one last for a while. Enter the "Rocky"…
Side by side they appeared the same: color virtually identical, clarity the same, with the only discernible difference under close scrutiny was the slightest tinge of color fade at the edge when tipping the glass of our upstart. Now the nose: the Bryant Family was exquisite with a lasting full aroma, while the 2009 Socrates had no more hint of that slight roughness of the sulphur—we had decanted it away.
We put them to the first few rounds, and simply smiled and stared at each other's reactions—no words were immediately spoken, as we painfully waited to see some sign of emotion from each other's facial expression before commenting. Ahah! Our "Rocky" went "tannin to tannin" without any sign of weakness from our future champ during these critical initial rounds. Was it because the judges were biased—damned right it had something to do about it, so what we did is we started a few blind tastings, right there randomly in the restaurant. Let some other unbiased folks take a taste, including the beverage manager, Melanie Silveria as one of them. Her description of the Cevant Cellars 2009 Socrates: "it's beautiful." Followed by: "they are very similar aren't they." All other unbiased tasters essentially said the same, "that they were very similar", but one reviewer commented: "I like this one though as it has more structure and tannin" when referring to the 2009 Socrates. Could one of the blinded reviewers really like ours more than this revered cult wine colossus?
So ladies and gentlemen, we have a very serious wine! David, Alvin, and I all firmly know that we can go "tannin to tannin" with any of the tier one players right now—not to mention the fact that when you give us a year or a little longer to lay down and train our fighter, watch out. I know one of us, but I won't mention any names (David), will not be able to refrain from consumption to allow full maturity of our first vintage, but I am looking forward to what this will be with 3-5 years of "training". Cheers!